Message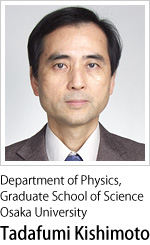 Welcome to Kishimoto Laboratory.
Kishimoto Laboratory is working to clarify why the matter of the universe takes the form that it does. Our work is based on experiemntal particle and nuclear physics.

When we investigate this question from the point of matter, we eventually come to the elementary particles. Matter is composed of collections of elementary particles which result from forces acting between them. Modern physics tells us that force is also transmitted by particles. Particles include fermions which form matter, and bosons which transmit force. The relationship between matter (fermions) and force (bosons) also exists in composite particles, producing the various forms of hadrons such as nucleons and atomic nuclei.

The universe is composed only of matter; there is no antimatter. The reason for this is one of the major questions that modern physics is facing. In order to solve it, we must investigate whether the law of conservation of particle number is violated. We are intensively working on this question.

Elementary particles and atomic nuclei are the most basic particle units that we can realistically handle. Kishimoto Laboratory uses them in order to experimentally investigate the composition of matter.

Physics is the most fundamental of all the natural sciences, and is a discipline that requires step by step effort. Learning physics means learning about how to logically derive conclusion.